Database Construction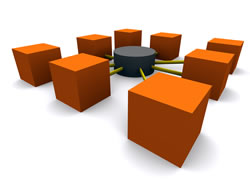 Does your business have a system which records details about your organization's customers and gives you the ability to communicate with those same customers at will?
We're not talking about your profit & loss statement, which your database certainly affects. Your customer database includes the names, email addresses, physical addresses, birthdates, anniversaries, and any other information about that customer that is the basis of your relationship with that customer. Now...do you have one?
Your competition probably does, or at minimum, is actively in the process of developing such a database. The barrier to communication was leveled by the internet and that's the reason business has been turning to managed Buzz, Viral and Word of Mouth Marketing to develop relationships with customers that were once 'leased' to you by traditional media whose only business model was to convince you to spend as much as you possibly could on their channel so that you may convince their customer database (read: ratings/circulation/etc) to do business with you.
Carr Knowledge connects the correct medias to make individuals aware of products and services, attract new customers to a product or service, keep existing customers interested in a product or service, and building and maintaining a customer database from these efforts that will soon serve as the primary media for the customer base. We understand and help you profit from communicating the fact that the value in any media is based solely on how many of your customers or potential customers you can acquire and begin a relationship with...not through the media in which they were mined, but directly with that customer on his own terms using your business as the media.
This process all stems from your business and its customer database. Let's build one.